How to build a perfect charcuterie board.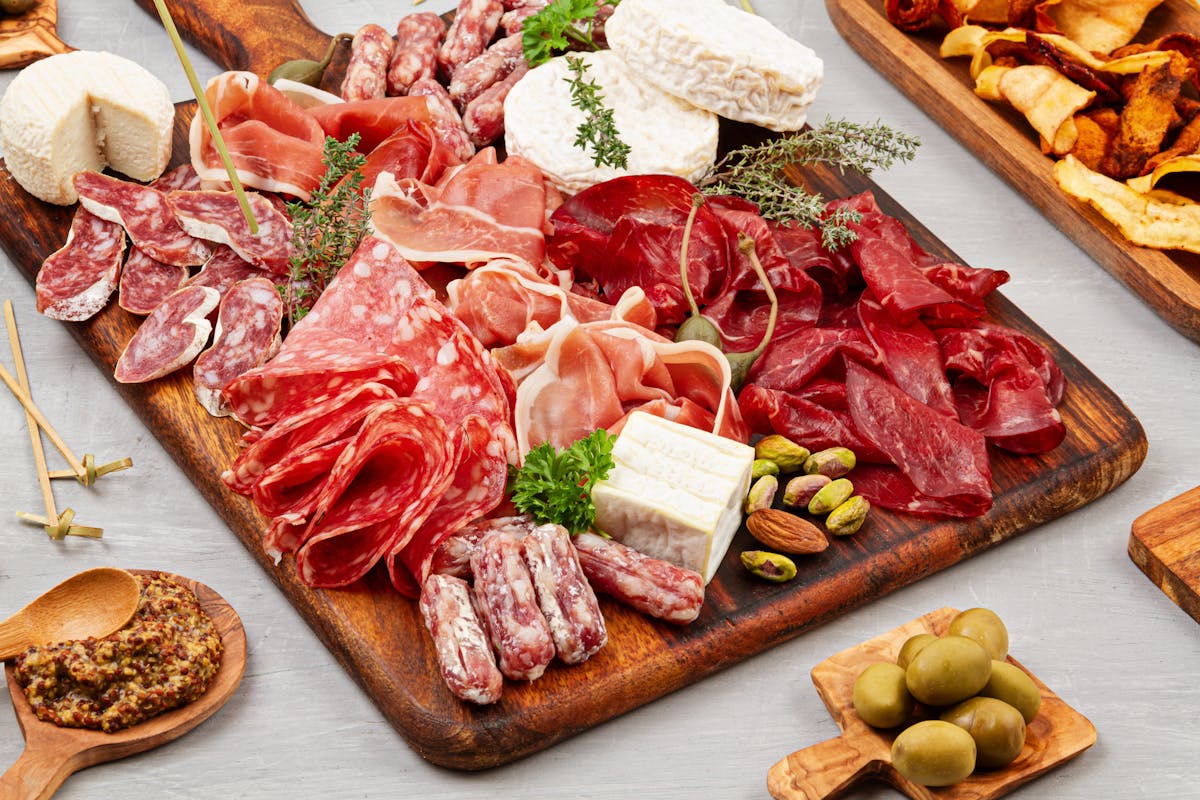 Charcuterie boards. Everyone loves them - but why? They are an open canvas to display all of your favorite foods. From sweet to salty and spicy to savory, your charcuterie board can be whatever you want it to be.
A beautiful charcuterie board is a pleasing array of textures, colors, and flavors. It offers something for all of your senses, and a well-built board invites you to explore the plate. Accompaniments include cured meats, cheeses, fresh fruits, sweet jams or honey, bread, and crisp vegetables.
So how can you build a high-quality charcuterie board? Keep reading to learn how Canopy by Hilton - West Palm Beach makes their premium charcuterie boards and how you can recreate the same experience at home.
Premium Smoked and Cured Meats
Begin planning your board by focusing on the meats you want to include. Offering various smoked and cured meats will provide a balance of flavors. We'd recommend you aim to have 3-4 different types on your board. Crowd pleasers like prosciutto, pepperoni, salami, and sausage can add rich notes to your creations.
Domestic and International Cheeses
Add a bountiful selection of cheeses. Exploring both domestic and international cheeses allows you to add a range of textures and intensity. Think through the meats you are featuring and what cheese would pair well with them. Maybe it is a salty parmesan, or a soft mozzarella, or a tangy bold cheese.
Bread and Crackers
We recommend including at least two different bread and cracker items on your board. Not only will these be the foundation for each bite, but they can add an additional layer of flavor! Explore a rosemary cracker, a toasted baguette, or a plain salted cracker. Each one provides a unique addition to your flavor profile.
Fresh Fruit
Use fresh fruit to add new textures, scents, and colors to your board! Delicious fresh fruit cuts through the rich and fatty notes from the meats and cheese. Green apples provide a fantastic tart, crisp bite, while sliced pineapple shares a sweet relief (citrus) throughout the night.
Sweet Treats
Dessert often is the highlight of the night. But don't wait to indulge in chocolate morsels or local honey. Including sweets alongside your savory items allows for unique combinations to be created throughout the meal.
Wine and Cocktails
Elevate your charcuterie board experience with a fantastic cocktail or bottle of wine. As you sip on a fabulous drink, enjoy the complex flavors you create throughout your dining.
Wine Down Wednesday is offered at both Banter and Treehouse restaurants at Canopy by Hilton - West Palm Beach. Enjoy a perfectly paired charcuterie board and a glass of wine for a fabulous evening.
Banter at Canopy by Hilton - West Palm Beach is located in downtown West Palm Beach. Find us inside Canopy, a boutique hotel at 380 Trinity Pl, West Palm Beach, FL. Our open and airy 6-story atrium and nature-inspired space will surround you as you dine! Enjoy inspired dishes and handcraft cocktails that will deliver delectable flavors in every bite. Reservations can be made through our profile on Open Table. For even more Banter, follow us on Facebook and Instagram.