How to Make Creative Cocktails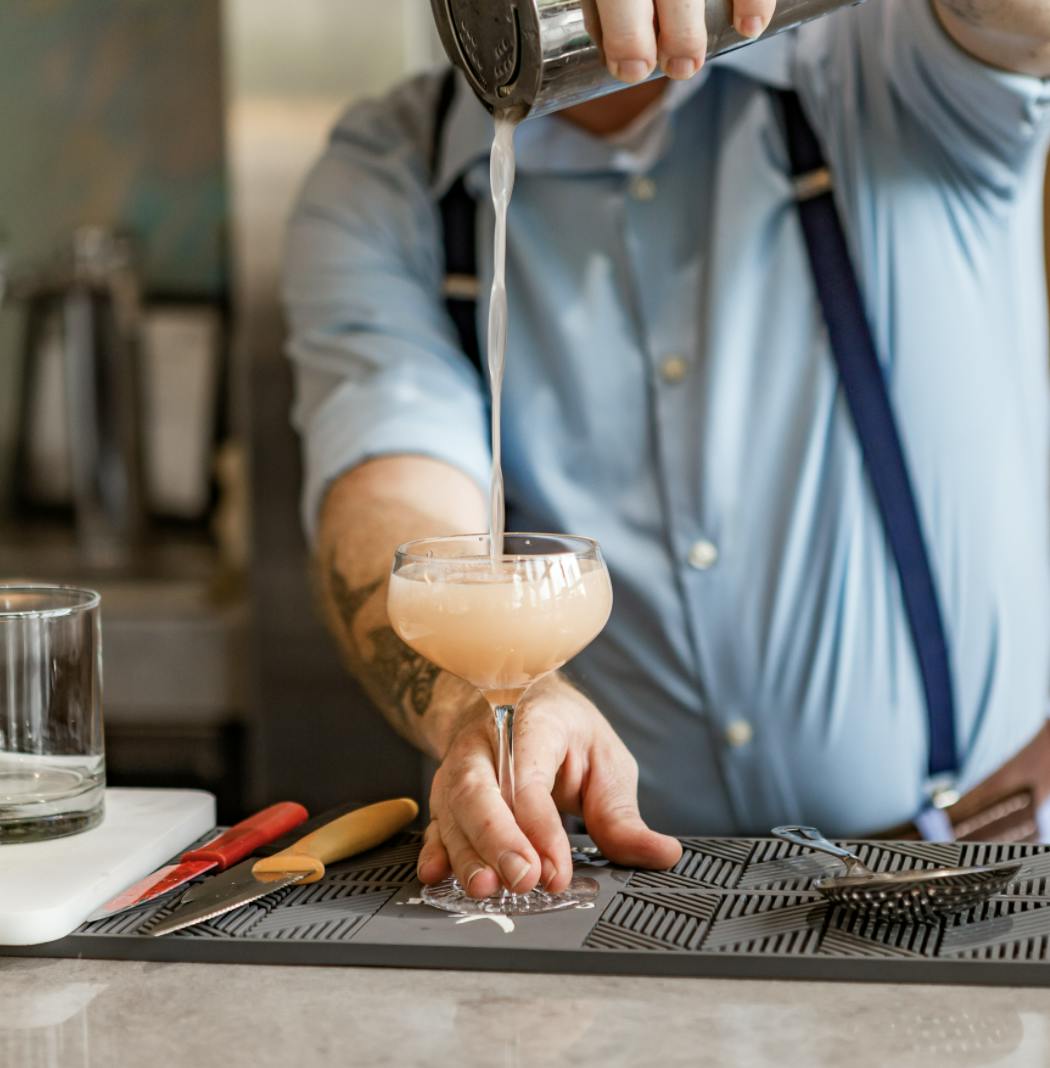 Every great occasion is elevated with an unforgettable drink! Whether you are planning for a party or just wanting a happy hour at home, we are sharing some valuable tips so you can create a unique drink for any event.
Fresh ingredients and premium spirits ensure our handcrafted cocktails hit all the right notes. Banter at Canopy by Hilton prides itself on offering a cocktail menu that is filled with unique creations featuring delicious flavor profiles. Feeding off of the energy of the Palm Beach area, our mixologists develop bold recipes for cocktails that highlight whiskey, rum, vodka, and local spirits.
Every exceptional drink starts from the classic ratio foundation 2 - 1 -1. For every 2 parts of spirit, you need 1 part sour and 1 part sweet. Building a recipe off of this allows you to create a cocktail that is complex but balanced.
The Rosmarinus Artisanal Cocktail celebrates rosemary and grapefruit flavors. We mix Grey Whale Gin with Giffard Pamplemousse. Housemade simple syrup and freshly squeezed lime juice balance out this drink. A sprig of rosemary adds an earthy-rich note to the drink.
What type of cocktail will you make?
What notes are you hoping to hit with your drink? Drinks can lean towards sweet, sour, salty, bitter, or alcohol-forward flavors. When thinking about some of the best drinks you have experienced, is there something similar among them?
Which spirit works best?
The spirit you choose to use will influence your drink's flavor profile. Clear spirits like vodka will provide a mild or almost undetectable flavor. Dark alcohols, like bourbon, provide solid foundations for your drink gives a bold and robust flavor. A mini tasting at home might be the perfect way to determine which spirit will work best for your drink. Make sure to have a glass of water nearby to cleanse your palate in between your tastings.
As you explore our menu, you will see we feature a variety of alcohol in our drinks. Each brand and type offers a unique twist to our artisanal cocktails.
What is your sweet note?
Our mixologists are dedicated to making in-house syrups to provide the highest quality tasting ingredients. The extra time it takes to make our syrups from scratch can be tasting in each of our cocktails. If it's possible for you, we encourage you to try making your own syrup.
Follow a ratio of 1 part sugar and 1 part water. Mix the two ingredients in a pan over medium-low heat and slowly stir until dissolved. While the mixture is warm (but not hot), add your flavorings (like freshly peeled fruit peels, flowers, or spices).
And your sour note...
There are many bottled juices available for cocktails that range in quality of the product. We encourage you always to use freshly squeezed fruit juice when possible. Freshly squeezed fruit juice will add brightness to your drink and provide a purer-tasting cocktail. Many recipes include either lemon or lime as one of their sour flavors. Fruit juices can also provide a sweet note!
Our Passion Crush highlights the beautiful balance of sweet and sour. Starting with Bacardi Rum, we mix freshly squeezed lime juice with housemade passion fruit syrup. Muddled mint leaves add a crisp note to the drink, and a splash of flavored soda brings character to every sip.
Do you prefer shaken or stirred?
A shaker filled with ice will add air to your drink. Or, you can chill your beverage by simply stirring your liquid with ice. Try your recipe both ways to see which method tastes the best!
Don't forget to complete your drink!
A beautiful drink is appealing in taste and sight. You want to make sure all of the senses are being activated with your cocktail. Think through the name, description, flavor notes, and visual cues of the contents inside.
A garnish can act simply as decoration, or it can add a layer of complexity. Let your imagination guide you as you put the finishing touches on your drink.
And now Happy Hour begins. Gather your friends to celebrate good times and your fabulous handcrafted drink!
If you are looking for someone to make excellent drinks for you, stop by Banter. Happy Hour runs Tuesday through Sunday from 4-7 pm or check out our hours for a complete dining experience.
Banter at Canopy by Hilton West Palm Beach is located in downtown West Palm Beach. Find us inside Canopy, a boutique hotel at 380 Trinity Pl, West Palm Beach, FL. Our open and airy 6-story atrium and nature-inspired space will surround you as you dine! Enjoy inspired dishes and handcraft cocktails that will deliver delectable flavors in every bite. Reservations can be made through our profile on Open Table. For even more Banter, follow us on Facebook and Instagram.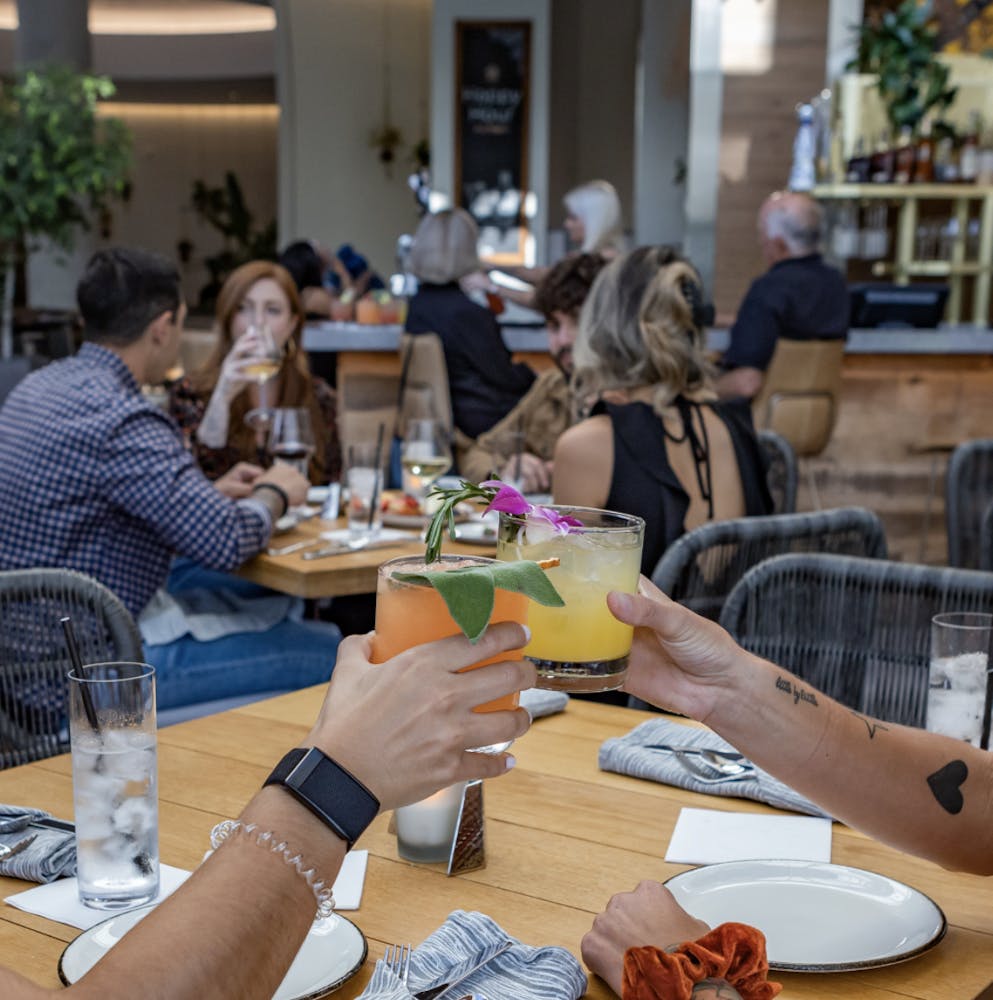 .